Edge milling machine KF 400 III
The KF 400 III compressed air edger has a robust compressed air motor. It is much easier to handle than an electric edge milling machine. It is very well suited for deburring/ chamfering/rounding work. Similar to the former Lamello Profila Pro or Wegoma DKF32. Consultation gladly under Tel.: 05741 3012080, international +49 5741 3012080.
With the KF 400 III you get a proven product for robust use with ergonomic handle and speed adjustment. Collet for shank 8mm.

Description
The robust compressed air edge milling machines
There are no easier edge routers than compressed air edge routers. Especially when hand and arm start to hurt because long or delicate work has to be done with the edger, the compressed air drive cannot be beaten.
Heßler has expanded its range of compressed air edgers with the KF 400 III. It has a proven compressed air drive and convinces with performance and manageability.
Pneumatic drive

Collet up to shank 8 mm

max. 24,000 rpm, speed adjustable

max. 6 bar, approx. 600 l/min +1 drop of oil/min

Table

From metal

Thick, robust workpiece support

Milling cutter

With thrust bearing

Cutter max. diameter 28 mm
The KF 400 III can be equipped with an insert milling cutter. If the exhaust air interferes with the work, an optional exhaust air guide is available. This allows the exhaust air to be discharged to the side.
During intensive operation a maintenance unit is required a maintenance unit is required or an upstream oiler to ensure that sufficient oil is introduced into the motor (approx. 1 drop/minute). For starting, a small oil bottle with a description of the oil specification is included in the delivery.
For each edge milling machine a consultation is offered regarding the respective application, Tel.: +49 (0)5741 3012080.
Dr. Christoph Heßler Machine Systems
32312 Lübbecke
www.c-hessler.de
KF 400 III at the Holz-Handwerk 2022 trade show in Nuremberg: Handy, robust, ergonomic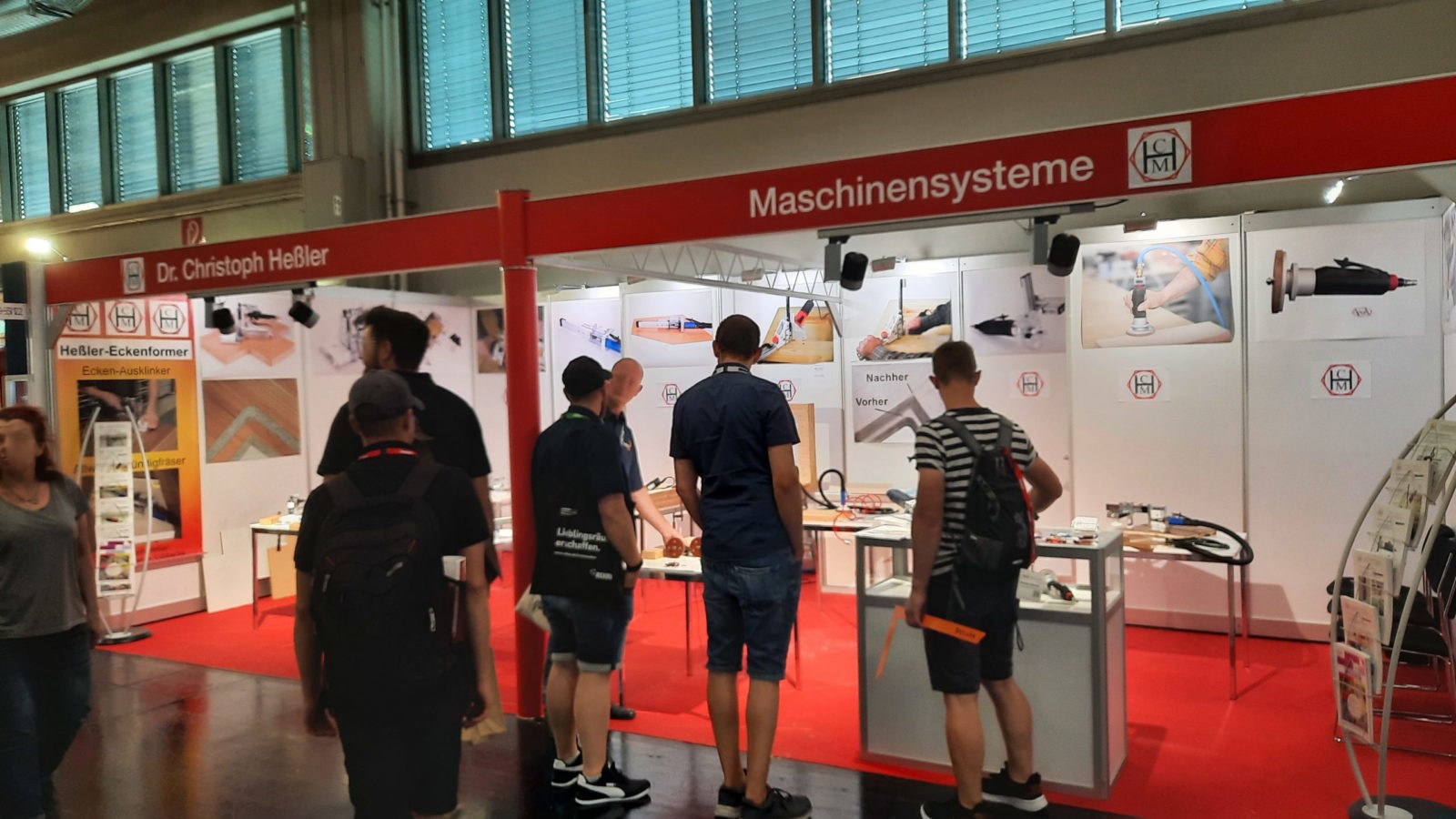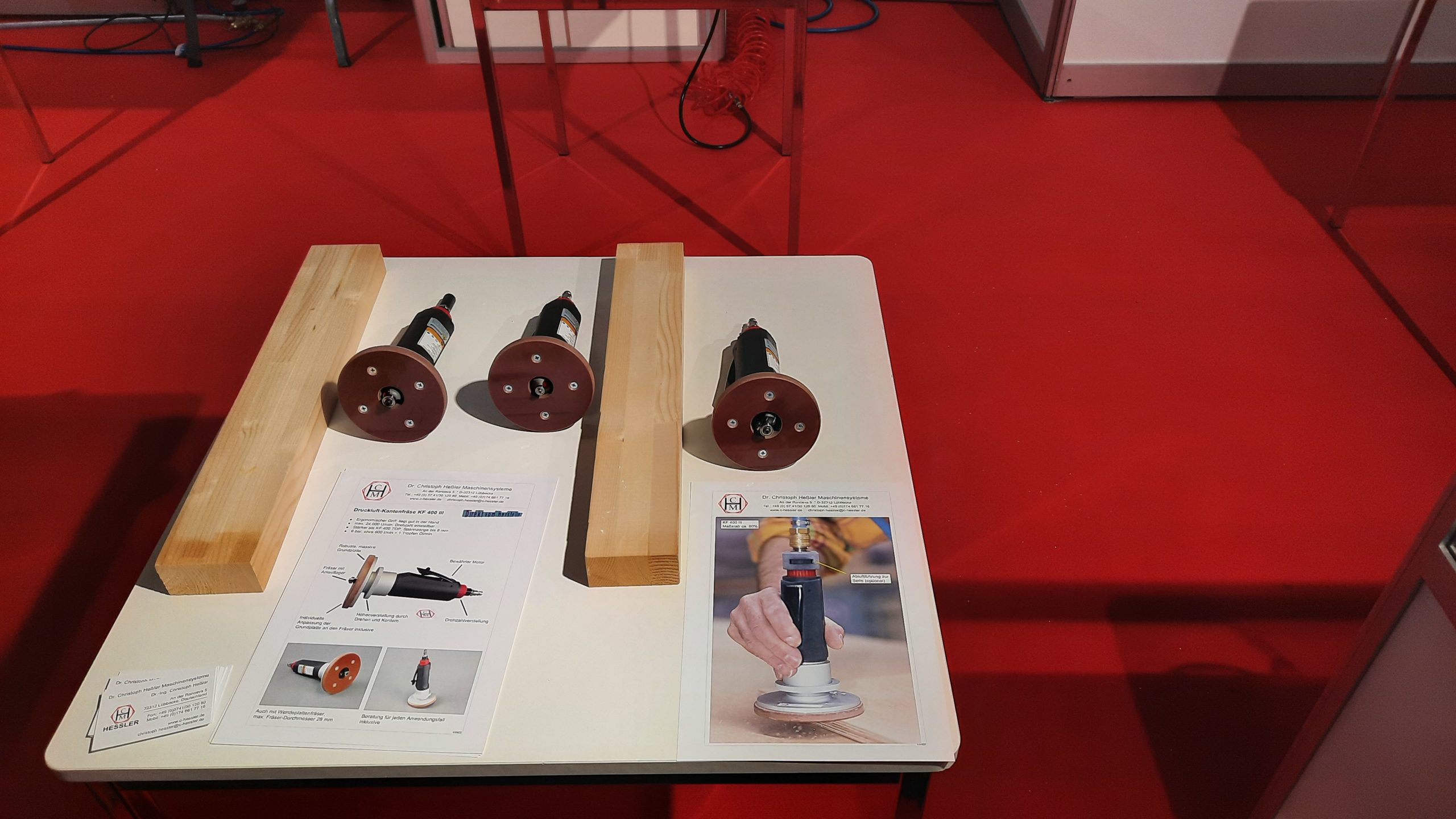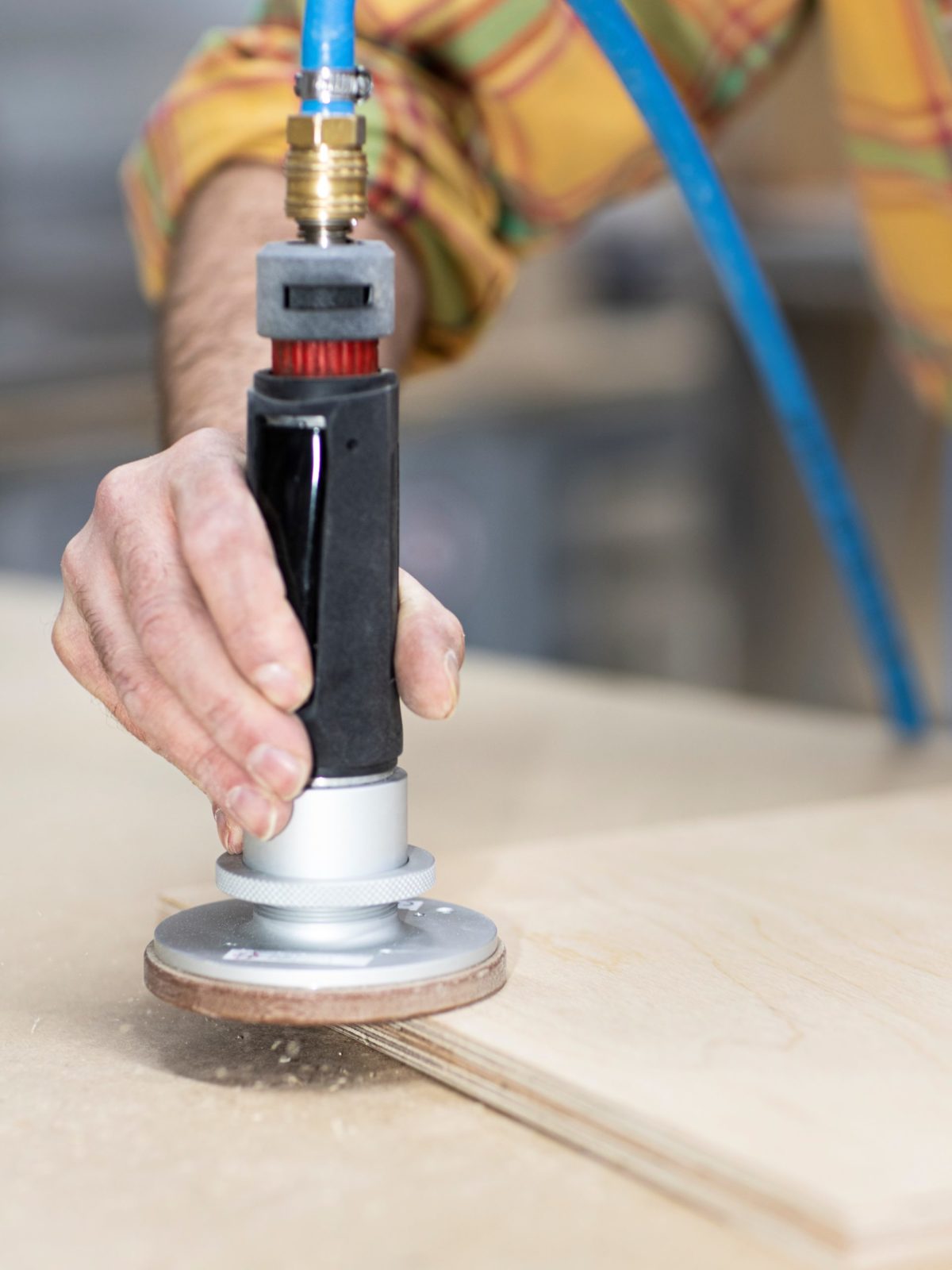 Application area
Compared to electric edge milling machines, the KF 400 III compressed air edge milling machines are light and easy to handle. Typical application is the chamfering or rounding of already flush milled plastic edge bands or on panels. The router can be used with wood and plastic well up to 3mm bevel or radius.
Function and operation
The KF 400 III edge milling machine has an ergonomically designed handle. It is easy to guide with a cutter with thrust bearing and on the solid base plate. We offer commercial users a free and non-binding test.
Price
1 week test without obligation and free of charge
Price see above
Technical requirements
For operation, it is necessary to regularly supply compressed air device oil. This can be done for sporadic use by directly dripping into the compressed air connection plug or for continuous operation by a maintenance unit set to 1 drop of oil per minute.
Scope of delivery
The KF 400 III edge milling machine is delivered with a permanently mounted R2 milling cutter as standard. The milling cutter is mounted and tested. In addition, a small bottle of compressed air tool oil is supplied.