Corner rounding MZ 02 90F
The corner rounder is used for safe and blur-free corner rounding or corner chamfering. It is the ideal supplement for edge banding machines without copying: Felder G 330, Felder G 360, Felder G 380 edge banding machine, Brandt KDN 210, Hebrock F2, Hebrock 2000, Lange B85K, Lange B85 KF, Lange B90 K. Also suitable for softforming profiles and inclined side faces. Other designations are corner copier, corner copier, corner router and rounding edges.
Description
The specialist
Take your furniture to a new level with our MZ 02 90F corner rounder! As a cabinetmaker or carpenter, you know how important precise work and clean results are. Our corner rounder, also known as an edge copier or edge copying machine, allows you to round corners precisely at 90° without blurring and ensures a clean routing result. Due to its robust construction and very good handling, it is perfect for professional use in trade and industry.
Now new: Even in the standard equipment, our corner rounder has a pleasantly noise-reduced motor with speed adjustment. With our copy unit, you can round the desired corners quickly and easily to save time and labor. You can adjust the speed to achieve the best routing result every time.
With our corner rounder MZ 02 90F you save time and increase the quality of your work. Discover now how easy it can be to round off sharp corners and bring your furniture to a new level!
Also known as and alternative to corner shaper, edge shaper, edge planer, corner router, corner router, edge trimmer, corner finishing machine, edge smoother or corner rounding machine, scraper.
Corner rounding MZ 02 90F for corner rounding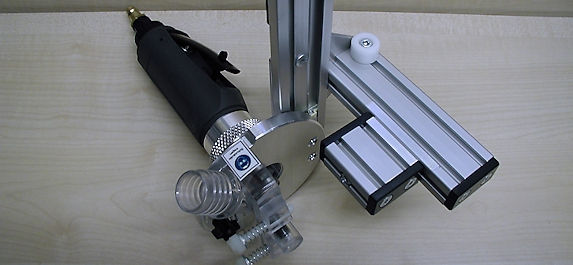 What the corner rounder MZ 02 90F can do:
Precise 90° corner rounding without blurring
Clean milling result
Very good handling
Now new: Already in the standard equipment with pleasantly noise-reduced motor with speed adjustment
Corner rounding MZ 02 90F Insert
Application area
Precise 90° corner rounding without blurring
Corner copy machine and corner copy machine for edge rounding
Clean milling result, very good handling
Already in standard equipment with pleasantly noise-reduced motor with speed adjustment
Function and operation
Guide as straight holding aid with workpiece support arm
Light air motor with cutter, standard R2
Adjustable radial stops and thrust bearing brake
Very light (1.4Kg)
Price
Corner rounder MZ 02 90F with noise-reduced standard air motor including speed adjustment: € 620 net: This is a fraction of a copying unit.
Corner rounder MZ 02 90F Silent with extra quiet air motor with exhaust hose: € 680 net
Packing and shipping Germany € 15 net
Technical requirements
For operation, it is necessary to regularly supply compressed air device oil. This can be done for sporadic use by directly dripping into the
compressed air connector or, for continuous operation, by a maintenance unit set to 1 drop of oil per minute.
Scope of delivery
Machine
Milling cutter, mounted and preset
Each machine with cutter is tested on wood/plastic and approved
Initial equipment compressed air equipment oil with specification
Instruction manual
Tool
Guide and support arm
This corner former is equipped with a maintenance-free guide that eliminates wobbling. It is positioned vertically by pressing the support arm onto the workpiece. There are round stops in the support arm on both sides, which makes it very convenient to find the support position.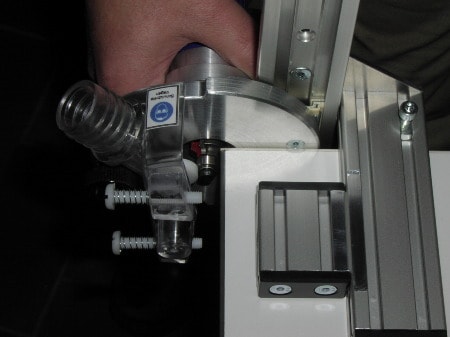 Adjustable radial stops
Two screws are attached to the suction adapter, which point in the direction of the radius of the tool and are therefore called radial stops. In the lower position of the corner former, when the thrust bearing is against the underside of the workpiece, the upper radial stop abuts against the front edge of the workpiece. This sensitively and precisely determines how far the tool should mill. Handling becomes safer and easier.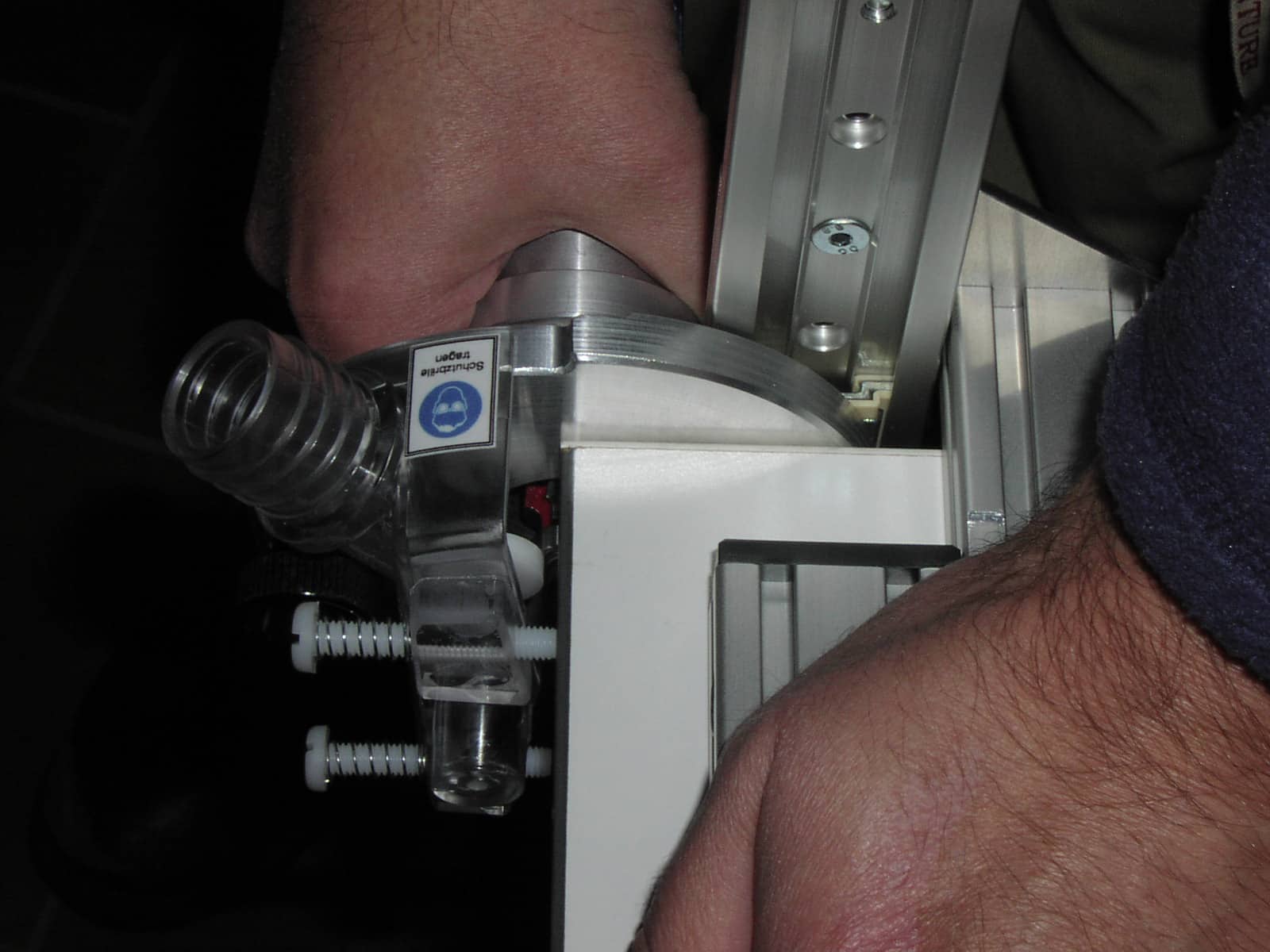 When the thrust bearing rolls over the front workpiece edge, the radial stops are raised from the workpiece edge.
Due to the special design of the support plate, the pneumatic unit can be gripped very close to the workpiece. This results in a very good guiding sensation over the entire milling path.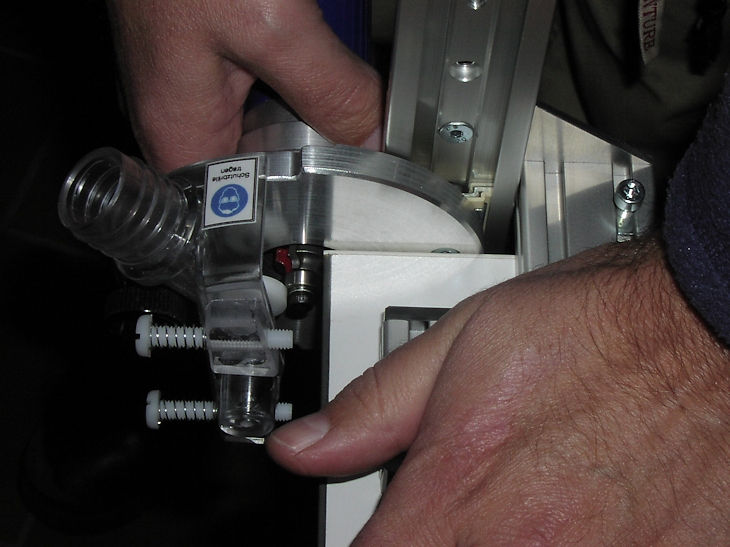 The rollover path is also limited on the upper side by the associated lower radial stop.
In addition to better manageability, the radial stops offer the limitation or avoidance of milling marks.
If the edge strip over which the thrust bearing rolls protrudes slightly above the top surface, the thrust bearing with the cutter will sink down onto the top surface. This can cause an unsightly indentation on the top of the plate-side edge strip. The radial stop can be used to prevent this sinking. The same applies to the underside.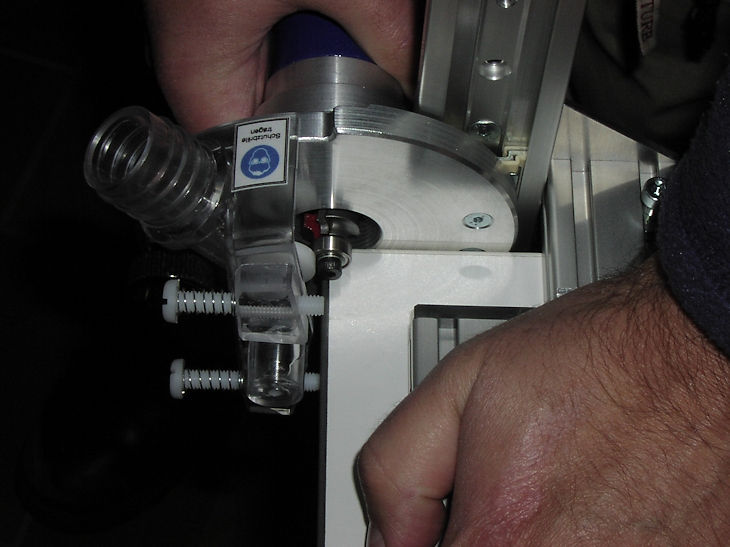 Can be used for right and left corner
The corner former can be used for both right and left corners. For a left-hand corner, the corner former is simply turned over and inserted exactly mirror-inverted. No modifications or conversions are necessary for this.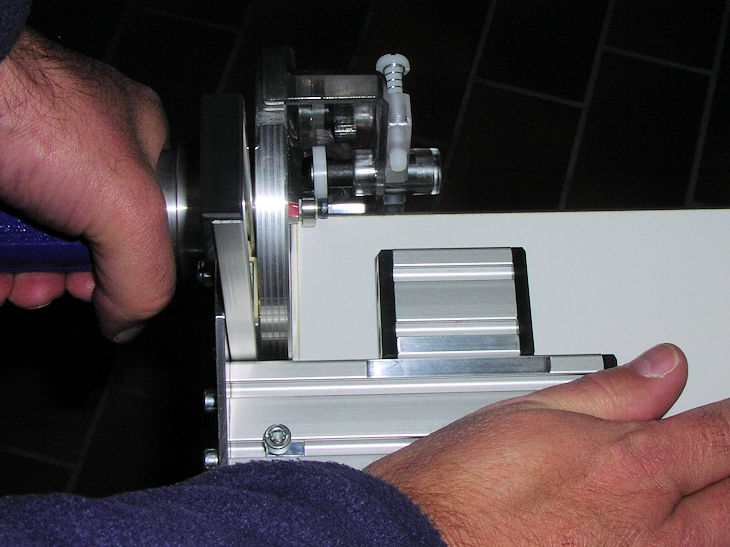 More information
Corner rounding MZ 02 90F

Pneumatic, noise-reduced drive unit with speed control, axial adjustment by rotation in adapter
Cutter with thrust bearing, R 2, shank 6mm, other cutters on request
Linear guide as a straight holding aid, guide-slide element with special plastic in anodized aluminum rail

Workpiece support made of aluminum profile with lateral support enlargement
Radial contact on the workpiece due to the cutter thrust bearing

2 radial stops for limiting the milling path on the top and bottom of the slab, effective from a slab thickness of approx. 19 mm
Exclusively for 90° corner processing on plastic or wooden edges for rounding off an approx. 1 mm protruding edge strip protrusion up to 50 mm wide and 2 mm thick, edges on the top and bottom sides must be machined flush beforehand, e.g. in an edge banding machine